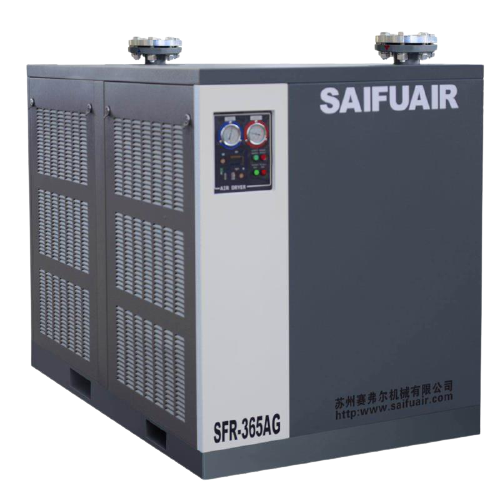 SAIFUAIR Air Dryer
賽佛爾冷凍式乾燥機
Air-cooled
3.8-79.5 m3/min
Water-cooled
11.0-415 m3/min
Air outlet designed to ensure no condensation
Low pressure difference to reduce power consumption
High quality copper tube for long service life
Economic price with premium performance
Saifuair Product Specifications
Technical parameters table of air-cooled normal temperature freeze dryer (maximum inlet temperature≤ 45 °C)
Model

Nm³/min Processing
capacity Nm³/min

Power supply

Power consumption
(KW)

Refrigerant

Diameter of the air
inlet and outlet pipes

Dimensions (mm)

Weight(kg)

Length

Width

Height

SFR-038A

3.8

1ø /220V

0.8

R-22

G1 1/2"

850

630

1080

125

SFR-058A

5.8

1ø /220V

1.0

R-22

G1 1/2"

850

630

1080

130

SFR-071A

7.1

1ø /220V

1.3

R-22

G1 1/2"

850

630

1080

150

SFR-086A

8.6

1ø /220V

1.5

R-22

G1 1/2"

850

630

1080

160

SFR-110A

11.0

1ø /220V

2.3

R-22

DN50

1200

800

1210

280

SFR-130A

13.0

1ø /220V

2.5

R-22

DN50

1200

800

1210

300

SFR-150A

15.0

3ø /220V

2.8

R-22

DN65

1300

800

1210

340

SFR-175A

17.5

3ø /220V

3.3

R-22

DN65

1300

800

1210

350

SFR-210A

21.0

3ø /220V

3.6

R-22

DN80

1600

1000

1290

420

SFR-250A

25.0

3ø /220V

4.5

R-22

DN80

1600

1000

1290

450

SFR-304A

30.4

3ø /220V

5.2

R-22

DN80

1700

1000

1290

500

SFR-365A

36.5

3ø /220V

5.8

R-22

DN80

1700

1000

1290

520

SFR-450A

45.0

3ø /220V

8.0

R-22

DN100

2200

1300

1730

830

SFR-520A

52.0

3ø /220V

8.8

R-22

DN100

2200

1300

1730

850

SFR-605A

60.5

3ø /220V

9.3

R-22

DN125

2300

1300

1730

900

SFR-650A

65.0

3ø /220V

10.4

R-22

DN125

2300

1300

1730

920

SFR-713A

71.3

3ø /220V

11.3

R-22

DN150

2300

1400

1850

1000

SFR-795A

79.5

3ø /220V

11.8

R-22

DN150

2500

1400

1850

1100
Note:
Working conditions of the dryer (air inlet pressure:0.7 MPa,; air inlet temperature:38℃; ambient temperature: 38℃;pressure dew point: 2-10℃)

For processing capacity over 79.5 Nm³/min or special specifications, materials, temperature and so on, please request technical information from our company.

The machine is of box type for processing capacity under 45 Nm³/min, and it is of open type for processing capacity over 45 Nm³/min.

This document is for reference only with no legal meaning. Actual configuration, data, model, specification and other information shall be subject to the contracts entered hereto.